Vet uses hockey to give back to military families
By Sarah Spain
A story about DTBL's president and founder, Shane Hudella and the organization he started to help military kids play hockey.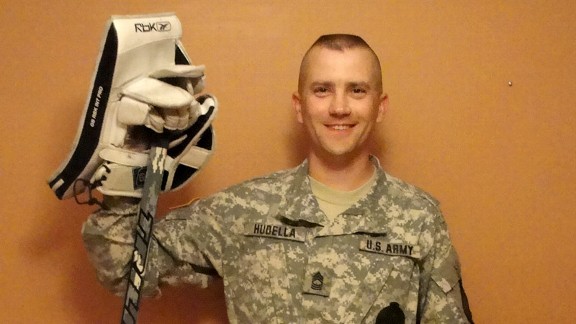 Earlier this year at the White House, Shane Hudella was "coined" by General Martin E. Dempsey, the chairman of the Joint Chiefs of Staff. It's one of the highest honors a member of the military can receive. And Hudella, a sergeant in the Minnesota National Guard, was rewarded not just for 23 years of military service, but because of the service he's doing for other military families.
In 2009, Hudella founded Defending The Blue Line (DTBL) with the goal of giving help to military families who love the sport of hockey. Since its inception, the nonprofit organization has provided more than 3,000 families across the country with hockey equipment, game tickets and assistance in paying for camps and leagues.
DTBL has gone from a small idea to a pretty big deal over the past few years. Big enough to draw significant attention and funds from the NHLPA. Big enough to be profiled on "NBC Nightly News."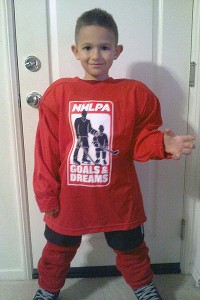 Riley Richards' father, Army Sgt. Timothy M. Smith, was killed by an IED when Richards was just a baby. Funds from DTBL have helped him find a home, and father figures, at the ice rink.
Hudella has four hockey-playing sons of his own: Patton, 18; Joseph, 10; Zachary, 7; and Cooper, 3. Watching them out on the ice is a constant reminder of how important hockey can be in a kid's life, particularly a kid whose parent is deployed or has died in service to their country.
A kid like Riley Richards.
Riley's dad, Army Sgt. Timothy M. Smith was killed by an IED in 2008. Smith's wife, Shayna Richards, was left to care for their baby boy, who she would raise to share her love for the sport of hockey. Riley is able to skate four days a week, thanks to assistance from DTBL.
"Boy, we were just honored to be able to give her a grant," said Hudella. "It was tear-jerking when she was telling us how important it is for Riley to get out to the rink, where his coaches are like father figures to him now. That's why we do this."
A die-hard San Jose Sharks fan, Richards learned of DTBL through Sharks defenseman Brent Burns. A former member of the Minnesota Wild, Burns shared his desire to help military families with Hudella back in 2009, helping inspire the creation of DTBL. Burns is joined by many current and former NHL players who give their time and effort to the charity.
Despite the growth in awareness, Hudella said the organization still must get bigger. Last year DTBL was $20,000 short of its goal during the last grant cycle and had to turn away deserving families. He's determined to serve everyone in need this time around. To that end, he's going to retire from the service at the end of the month to spend more time running the organization.
DTBL is also holding a celebrity hockey game Wednesday night at Ridder Arena on the University of Minnesota campus. The game will feature NHL stars like Zach Parise of the Devils, Ryan Malone of the Lightning, Matt Hendricks of the Capitals, and local boys Josh Harding and Nate Prosser of the Wild. Before the game, about 80 military kids will get to spend an hour skating with the pros and getting autographs.