Gigi Marvin
Gigi Marvin supports Defending The Blue Line®. She is the proud owner of Rink Rat 19 Hockey School.
Gigi is a 5 time member of the U.S. Women's National Team for the International Ice Hockey Federation World Women's Championship and a 4 time member of the U.S. Women's Select Team for the Four Nations Cup.
Gigi is also on the Advisory Board for DTBL and has graciously provided several hockey camp slots to DTBL military children.
January 29, 2014 - HUGE thanks to the Boston Bruins, Easton Hockey, and Gigi Marvin for donating $5K of new gear to DTBL military kids!
2013 hockey camp season - Gigi provided unlimited camp slots for military kids. Below is a photo of Gigi with DTBL kids in her camps:
December 31, 2012  - Gigi Marvin invited DTBL kids and families to come out and skate with her from 6:15-7:45pm at Drake Arena in St Paul. Thanks, Gigi, for all the support you give to DTBL and the military kids.
2012 hockey camp season - Gigi provided several free slots for DTBL military kids.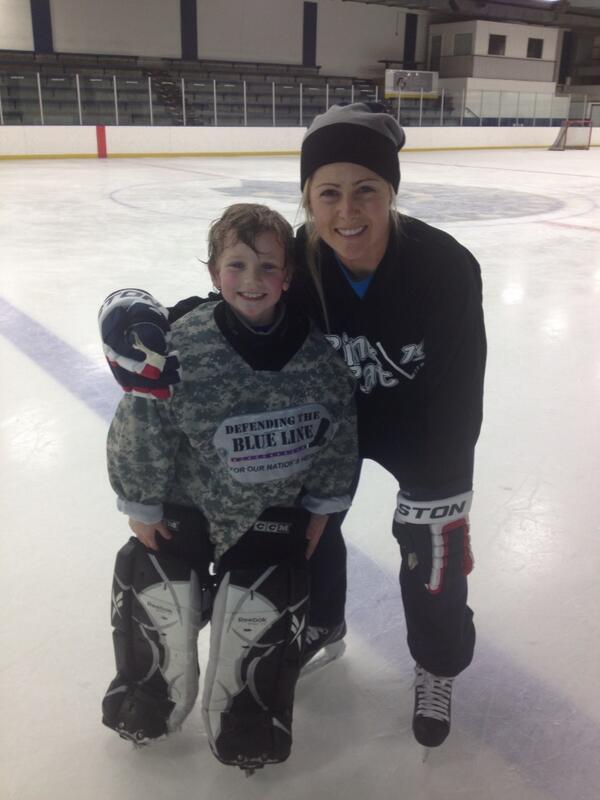 June 20, 2012 - Gigi attended the NHL Players Charity Game to benefit DTBL. It was a great day and evening of autographs and a hockey game between Team East/Air Force/Fox9 vs Team West/Army/KARE11.
September, 2011 - See the photo below: "Tyler (13) and Isaiah (9) Martin play with the Cape Fear Youth Hockey Association, the Jr. FireAntz at Fort Bragg, North Carolina and they had their picture taken with GiGi Marvin. Thank you for all you do, I have served in the Army for 16 years and most people do not realize what a military child goes through in their life.  My boys love hockey and have played since each of them turned 3." - Misty Martin
September, 2011 - Gigi was at Ft. Bragg, North Carolina with DTBL to help with an ADM clinic for 50 youngsters from the Cape Fear Youth Hockey League followed by a charity hockey game that pitted base personnel against members of the Defending the Blue Line crew. See the Video of the game here and you can also watch the video of Gigi jumping with the Golden Knights here.